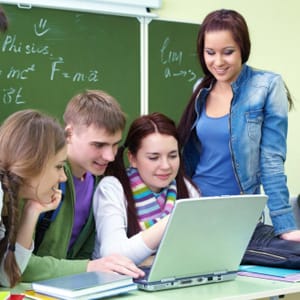 Helping You Provide the Best Possible Learning Experience for Students!
The world is changing at a remarkable speed, and as technology continues to advance, we're seeing various forms of IT simplify our lives in many ways; from work to school to home, we depend on technology to stay in touch with others, learn about various topics, and improve the quality of our lives. The truth is, technology is truly the future of education – and learning centers must stay ahead of technology to better educate their students.
Hammett Technologies offers IT services for learning centers – helping you provide the best possible learning experience for students. Call us at (443) 216-9999 or send us an email at info@hammett-tech.com.
For learning centers, technology is absolutely essential for all sorts of tasks students strive to accomplish, whether it's communicating with other students, accessing information, or sending assignments to teachers, technology is fundamental. We provide IT services that help you make the most of your information technology:
Wireless network security to help you provide safe Internet access on separate networks for staff, students, and guests.
Remote and onsite support to address any potential technology issues, questions, or concerns that may arise.
Strategic planning to help you better utilize your budget and make the right technology purchases/decisions.
Cloud solutions and hosted services to provide anytime, anywhere access to important applications, email, and files.
And much more!
Hammett Technologies helps you realize the true value of your information technology. Call us at (443) 216-9999 or send us an email: info@hammett-tech.com.
We'd be happy to discuss your IT needs.