The cloud-computing market wouldn't be as exciting if there wasn't any competition – it's good to have options!
For those unsure or unfamiliar; Azure is a cloud-based platform service directly from Microsoft.
There are 4 main competitors on the market. Amazon Web Services (AWS) is leading the pack, but that's not to say Azure isn't catching up. In fact, Azure's Q1 2015 indicates a +96% growth!
Is your organization ready for AWS or Azure? Throughout October 2014, Microsoft gained 10,000 new clients per week on Azure.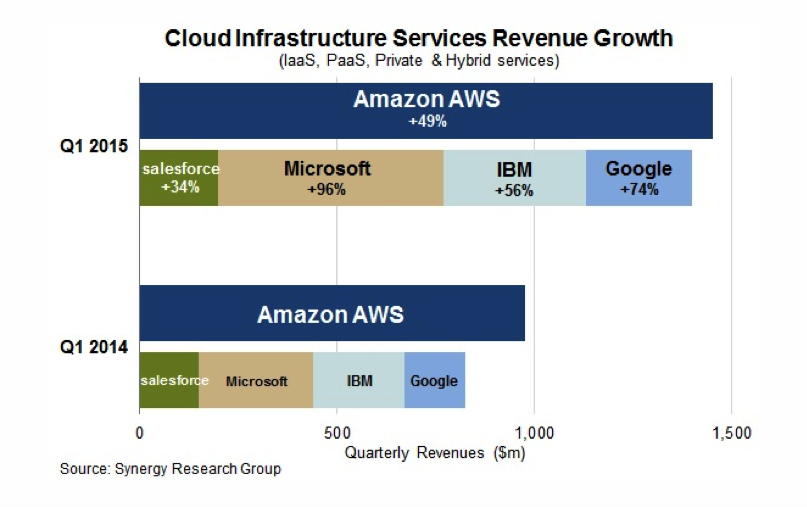 Below you can see how rapid these Cloud Infrastructures are growing by revenue:
Microsoft has learned from Office 365 and implemented the same winning formula. Their Azure roadmap promises tons of new features that will further enhance their platform -The Cloud Platform System known as "cloud in a box"-. One new feature they will be offering is on-demand cloud-based access to Windows Server and System Center. To get up to date with Azure's newest features, click here and check out Azure's roadmap.
Gaining leverage is the three main cloud nomenclatures, Software as a Service (SaaS) – currently their largest player is Office 365, and then Azure's winning combination – Platform as a Service (PaaS) and Infrastructure as a Service (IaaS).
Organizations should take notes as Microsoft invests a great deal of marketing efforts into spicing up Azure. Azure offers a broad range of deployment options for vendors and service providers, as well as the largest VMs in the cloud.
Our team of engineers can help leverage Azure to benefit your business, so call us today!